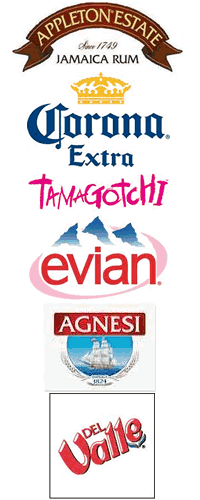 American Sparks LLC. It is the product of more than 28 years of experience in the successful
development of brands, products and services in Latin America and the United States.
American Sparks LLC. Directed by David Rubinstein, it has achieved, an indisputable experience in the market of Latin America, the Caribbean Islands and the United States, the product of hard work, the real understanding of the economy, its idiosyncrasies and its opportunities, have formed the framework of success of large projects undertaken by this company and its leaders.
In the world of food and beverages, toys and entertainment, variety and business services, American
Sparks LLC. has been successful in the development and positioning of globally recognized brands such as Corona Beer (Grupo Modelo Products), Evian Water, Jugos del Valle, Appleton Rum, LU, Maille Mustards, Danone, Agnesi Pasta, Lea & Perrins, BLU Energy drink, OKA Products, Tequila Corralejo varieties, Valdivieso wines, INLINE Plastics, Bag Craft – Novolex, among many others.
In the world of toys and entertainment, it has developed the market in Latin America for all the action figures of the Bandai Group of Japan (Power Rangers, Caballeros del Zodiaco, and the famous
Tamagotchi virtual pet,)
Successes recognized both by the creators of the brands and products, as well as by the consumer public of the same; The result of honest, professional, and constant work to achieve the proposed goals.
His work in the region, with great focus and precision in the identification of opportunities in these
markets, as well as the final recognition of his professional quality and the maintenance of excellent
relationships with clients, suppliers and other participants are the environment of this great company;
having thus far created a positive track record.
A high recognition of the economies of the region, with a solid foundation in financial education, is the
business experience that accompanies the commercial skills of our company in each of the projects that
face the highest goals finding an attractive horizon for our company and its customers.
American Sparks LLC. build long-term relationships and create opportunities for your clients and friends;
Supported by its years of experience, today it consolidates the best advice in terms of manufacturing,
product image, transportation and marketing, consolidating not only the sales force, but also the entire
product development, giving it a true market opportunity.